This time sunday scribblings came with a "smorgasbord" of ideas and that is proving to be my nemesis. Try as i might, i'm just not able to decide on THE pompt, from the 101 (yes, 101). I'm equally worse at a buffet...

so my two cents on masks...and...morning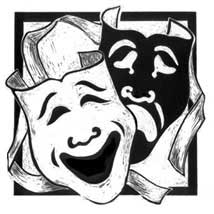 I love my morning tea. This is the only time i have when i sit looking out of my window at the clear skies, feeling the early morning nip and hearing the birds chirp. Sipping tea with the hubby in silence but yet so connected...I need those ten minutes of silence before I come back to earth and wear my masks for the day. Before I throw myself into the hustle bustle of routine.

Everyone wears some kind of mask. There are innumerable occasions where I have been forced to be someone else, either because society demands it or because there is no other way out. The only time perhaps I am just myself is when I am alone with that little core of people who form my family.

Writing my blog was something which gave me happiness and allowed me a way to explore thoughts and ideas, mostly through prose and on few occasions as poems. Here I thought I could be myself and speak my mind. And it worked too, for a long while. But now, I wish I had maintained my mask of anonymity, but being me, I have let the whole world know who I am...Slowly you become aware of other readers' sensibilities, of blog etiquette, of minding my p's and q's.

With blogs being a public display of thoughts, you cannot choose your readers. You write with the hope that they are read by like-minded people, which has happened in my case. i've met wonderful people this way and i'm not going to stop. But recently I came across a friend's poem on his blog where his comment space soon became a sparring ground, with one person criticizing the quality (not the content, but the quality) and the others defending the writer. Surprising, because it was a nice poem, but the reader felt it was below the standard. Whose standards was he talking about?

So I ask myself, do I have to wear a mask here too so that I can be myself...? or do i have to wear one so that I can be someone else?